Our office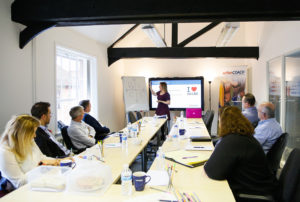 Our office is ideally located in the centre of beautiful Goring-On-Thames, South Oxfordshire.
We have plenty of parking available as well as excellent rail links. Goring & Streatley Train Station is just a short 5 minute walk away and is on the London Paddington to Oxford line.
Our office in Thames Court is very spacious and modern, centred around our stunning Training Suite with state-of-the-art technology, which can set up to 18 delegates and is regularly used for our events and workshops.
We often welcome our clients to come and work from our office or to host their meetings or training events in our Training Suite. We can even arrange for working lunches to be provided from one of our excellent local food establishments in the village. If you're interested in using our fantastic facilities, give us a call on 01491 877 522. If you need any more convincing, we also have great coffee (courtesy of Complete Beverage Solutions), a fine selection of homemade biscotti, and a well-stocked beer fridge!
Find us here
Goring & Streatley
Goring & Streatley, two ancient riverside villages separated by a river and joined by a bridge, are renowned for their beautiful scenery and fantastic pubs and restaurants.
We love our community and are proud to be actively involved in it, with close relationships with many local businesses. We are proud to be founding members of the Streatley Champions BNI Chapter – a networking group of local businesses where we meet and regularly pass business opportunities to one another. The BNI meetings are always fantastic and a great opportunity to grow your network. Our 20+ members meet every Tuesday morning and welcome local professionals looking to see if its the right group for them to join. Want to visit our chapter? Just drop us an email and we'll let you know the details.